I'm noticing a trend that I love to see -- more and more of my fellow bloggers are longing for FALL! Some of this autumn action is taking place here in my corner of Boomtown, too! I've got my fall wreath on the door, my pumpkin doormat ready for visitors, and a cute flag on my porch to round it out. I can't want to buy pumpkins and set up an outdoors vignette with some mums and a cute scarecrow family!
One aspect of fall decorating that we shouldn't forget, however, is the lovely aromas associated with this time of year. Apple cider, pumpkin bread, warm vanilla from sugar cookies, the crisp, earthy scent of colorful leaves -- all of these things can also be represented in our "scent decor," too.
Your options are vast: candles, room sprays, plug-in scent distributors, potupurri, tart warmers, and so on. My personal favorite, however, is the oil effusion lamp. Some of you know these as "Lampe Bergers," which is a trademarked name of one type of these lamps. I received my first, this purple beauty here (a Lampe Avenue lamp) as a wedding gift along with a bottle of La-Tee-Da fragrance.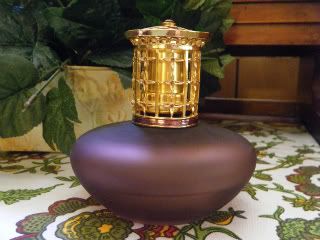 At first, I was clueless and a little scared to use it, but I did a little searching and found several videos on YouTube that taught me all about it. My first time using it -- WOW. I could not believe how quickly and thoroughly my house was filled with the delicious aroma of spicy orange, and I was completely in love! I learned that effusion lamps also purify the air, instead of just covering odors up, and this was a huge bonus for me because I want the air quality in my home to be as clean as possible.
However, the day soon came that I ran out of fragrance. I trotted down to buy a new bottle, and was shocked to learn that my new love was $12 a pop at my local Hallmark store!
I felt sad that I might be limited to only using my effusion lamp for short periods of time or on special occasions, but then I snapped out of it and hit up the search engines in hot pursuit of a budget friendly alternative.
Here's where
Christy's Thrifty Decorating
, a blog I love, saved my skin! Christy did several posts on using effusion lamps and even cracked the code on how to make your own fragrance. Here's her recipe:
16 fl. oz. isopropyl alcohol, 91% (I buy mine @ Walgreen's and Wal-Mart)
0.5 oz. of essential oil (about 1/2 of a 1 fl. oz. bottle)
0.5 oz. of distilled water
Mix right in the rubbing alcohol bottle and use as you would store-bought fragrance. I label mine with a Sharpie and keep them under the cabinet along with my tiny funnels. Do not fill your effusion lamp more than halfway, because it will not burn properly.
** Please note: I am not taking credit for this recipe! All praise should go to Christy :-) Please check her blog out, because she does some amazing things on a dime with Mod Podge and Goodwill finds!
I make my fragrance without the distilled water, because I generally cannot fit it into the rubbing alcohol bottle. I bet some of you might be wondering where the essential oil is purchased. Christy suggested
Bramble Berry,
and I can confidently recommend them through my own personal experience also. I buy the scents listed under "Fragrance Oils" on their website. But what, you ask, is the difference in price between making your own and buying it? I'm so glad you asked!
16 oz. 91% isopropyl alcohol --
$1.56
@ my Wal-Mart
1 oz. fragrance oil from Brambleberry --
scents range from $2 - $4
Shipping --
$8.50
(FedEx)
But don't forget that you only use half of a 1 oz. bottle of fragrance oil per bottle of 91% rubbing alcohol! I order 8-10 fragrance oils at a time (because I love me some variety!), so my shipping averages out to be about 0.85 to $1.06 per fragrance. Assuming you order 10 oils, with each oil costing you about $3 average, the grand total for each bottle of prepared fragrance is ... $3.91. MUCH better than $12 a pop! Can I get a WOOT WOOT?!
Fragrances I love for fall include Arabian Spice, Applejack Peel, Kumquat, and Vanilla Vanilla.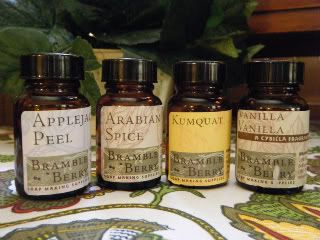 I'll soon be trying some new ones, like Amber, Buttercream & Snickerdoodle, Pumpkin Pie, and Wassail!
So tell me, visitors -- how do you like to scent your homes for fall, and what methods do you use to get the yummy fragrances in the air?