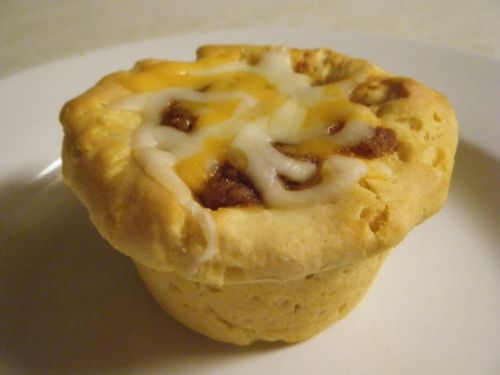 Oh my goodness, it is getting hot already here in South Arkansas! I find myself standing in front of the pantry, befuddled and wondering what I can make for dinner that won't be too "heavy." Even though this recipe requires use of the oven, it is close to a finger food and thus came to my mind. Bar-B-Cups!
These babies are far from gourmet, and instead just fun comfort food. When I was a kid, I used to lose my mind when my mom made these things, because I was pretty sure they were the coolest ever. Turns out, they're originally from a Pillsbury Bake-Off Contest in the 1950's, and the recipe was submitted by a guy to boot! So it goes without saying that these are Man Approved, Kid Approved, and just plain good football food, too! Yes, even as summer begins to cook us here in the South, my mind still strays to college football, even though I understand the game not one bit ... blame it on my Southern-ness and blame it on the SEC, I just cannot help it.
Enough talking. Here's what you need:
Bar-B-Cups
1 can of jumbo butter biscuits (8 count)
1/2 lb. ground beef or turkey, browned (I brown the whole pound and freeze the other half for later.)
1/4 - 1/3 c. barbecue sauce
1/2 c. shredded cheese (I use a colby-jack blend)
Preheat oven to 350. Open the can of biscuits and flatten each one to a circle about 5"-6" wide. Press each circle into the cup of a muffin tin, being sure to pinch a little of the dough over the top. Add barbecue sauce to the browned ground beef until it's a scoopable consistency, adding any other desired seasonings (I sometimes add a little liquid smoke, hot sauce, or ketchup, depending on my BBQ sauce). Add a spoonful of meat mixture to each biscuit dough cup, keeping in mind that if you add too much, it may overflow as the dough on the bottom rises and bakes. Bake 15-17 minutes, sprinkling shredded cheese over the top in the last few minutes to melt.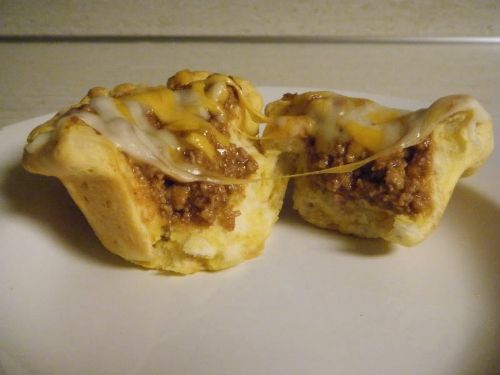 Mmm.
Bar-B-Cups are very yummy served with baked beans, salad, macaroni and cheese, or a nice little side veggie. They reheat well, and could probably be frozen once baked, but save the shredded cheese for when you reheat them if you go this route.
Other filling ideas:
- tuna melt mixture
- chicken pot pie mixture
- sloppy joe meat
- beef stew
- pie filling
- leftover spinach dip
- taco meat mixed with refried beans, salsa, even a little rice!
This post linked to: