Hey guys!
I love the idea of once-a-month-cooking (OAMC), but I'd rather have flexibility by pre-cooking key ingredients only instead of entire casseroles.
Also, we don't have the freezer space for casserole dishes, but I can fit a lot in by freezing it flat in bags. Major time saver for cooking after work or getting a meal ready on the night I have class.
Let's look at what I've made to freeze today!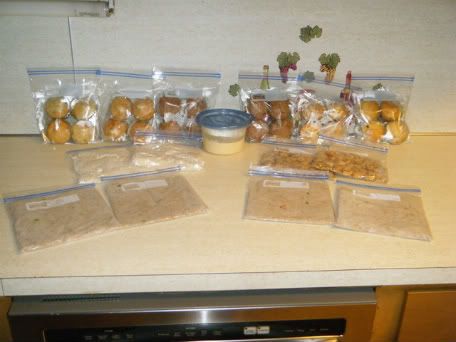 - 4 bags of seasoned browned ground venison, 1.5 c. each
- 2 bags of seasoned cooked chicken breast chunks, 1.5 c. each
- 24 assorted muffins jazzed up from mixes: oatmeal-raisin w/ cinnamon and walnuts; blueberry w/ real berries added; and raspberry with pear and ginger
- 2 bags of fluffy white rice, 2 c. each (I add salsa, chili powder, garlic powder, and a little chicken bouillon when I want Spanish rice)
- 1-2 c. batch of alfredo sauce
Other things I'm thinking of freezing?
- diced smoked sausage
- pizza dough from my breadmaker
- cooked pinto beans (I can get 3-2 c. portions from one bag of dried beans and actually have one bag of cooked beans already lurking in the freezer from a couple of weeks ago)
- chopped green bell pepper
With these frozen ingredients and some pantry staples, you can cook up A Lot of different things.
Pantry staples:
- diced tomatoes (regular and ro-tel -- I just add garlic and Italian seasoning to plain ones for Italian)
- other types of beans: black, kidney, chili, white (canned or dry)
- 15-bean soup blend
- "cream of" soups
- pasta: spaghetti, rotini, penne, bowtie, egg noodles
- tuna
- spaghetti sauce (can blend with a little tomato paste for pizza sauce in a pinch)
- shredded cheese (not in the pantry, in the fridge :fff: )
- eggs (ditto)
- tortillas
Examples of things that I can cook w/ these items:
- spaghetti
- tater tot casserole
- taco soup
- chicken tortilla soup
- country bean soup w/ sausage
- tuna noodle casserole
- chicken and rice casserole
- chicken alfredo
- red beans and rice
- nachos
- quesadillas (w/ rice and beans!)
- enchiladas
- bean burritos
- pizza: white pizza, hamburger, veggie ...
- quiche
There's of course many more options,
especially based on your family's likes or special food needs, but you get the picture!
Have you ever precooked and frozen meals or components of meals? Do tell!