Remember how I told you about my kitchen needing a punch of decoration and interest?
Well, this is the first step I took in banishing the "meh" and trying to make things spicy!
One day, I looked over my sink and the apron of cabinetry over the sink just seemed extra bare. It bothered me, so I started brainstorming things I could hang up there.
Some ideas I had were:
- wrought iron scrollwork
- skinny wood or metal vintage looking sign
- pennant banner
Any of these options would have been pretty, but I hit a wall with each
when I tried to figure out how I would hang them up there.
I was really reluctant to drive nails into the cabinetry, even though the previous homeowner did,
and I was concerned that a 3-M command hook might stick out farther than I wanted.

Finally, it hit me: a vinyl wall decal!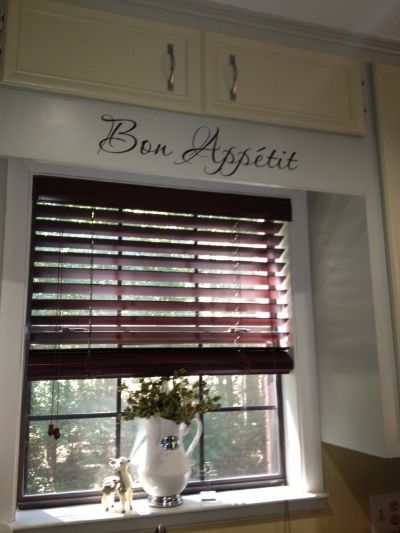 Ta-daaaaaahhh :-)
I spent less than $10 on this "Bon Appetit" decal on eBay, with free shipping, too.
It helped that I needed a small vinyl decal and that I selected a design already offered,
because these factors kept my price low.

It took me right around 15 minutes to add a little beauty to this area, and
if I ever change my mind and need to remove the decal, I can heat the vinyl
with my hair dryer and peel it up without harming my paint.

If you've never applied one of these before, my advice is to start small and simple.
You'll need a measuring tape to mark both the horizontal and vertical middles
of your wall space and your vinyl's paper backing.
You'll also need a level to be sure your design is not only centered on the wall,
but also not "whomperjawed" (trademark: my mother) and crooked.
To apply the vinyl, you'll need a stiff plastic tool (use an old gift card) to burnish it onto the wall.

Here is a YouTube video, courtesy Lucid Graphics,
that offers a great visual of the same"horizontal hinge" method I used.
The only thing I want to add is to be sure to check your design is level on the wall
before you remove the paper backing and rub it on.




Thanks for checking out my "Bon Appetit" vinyl art,
and keep watching for my newest thrifty kitchen updates!

This post linked to:
Met Monday @ Between Naps on the Porch
Amaze Me Mondays @ Dwellings - The Heart of Your Home
Make It Pretty Monday @ The Dedicated House
Mod Mix Monday @ Mod Vintage Life
Sunny Simple Monday @ Sunny Simple Life
Mop It Up Monday @ I Should Be Mopping The Floor
What'd You Do This Weekend @ Recipes and Ramblings