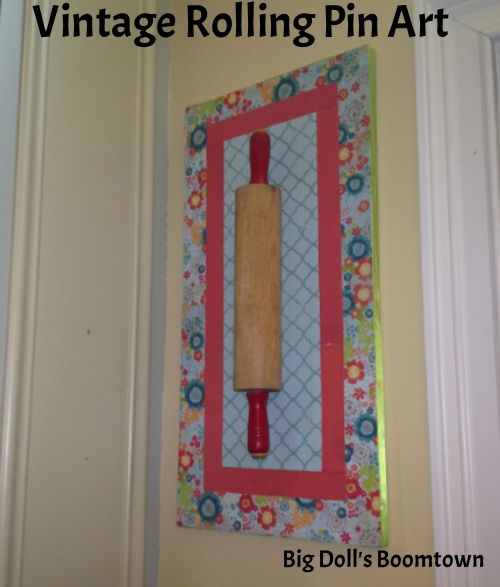 Alert! This post is VERY image heavy -- I wanted to be sure
readers could see exactly what I did, since I couldn't find
any type of project similar online.
ENJOY!
Back in March, my sweet great-aunt gave me a beautiful vintage rolling pin.
I loved it at first sight! It's my first vintage kitchen utensil, too.
The last thing I wanted to do was let this beauty be stashed away and forgotten in a drawer,
so I had to figure out a way to display the rolling pin in a way to do it justice.
Voila -- this vintage rolling pin canvas art was born!
Wanna make it with me?
You will need:
one precious vintage rolling pin
12x24" canvas
4 sheets of scrapbook paper in coordinating prints (2 the same, and the other 2 complementary)
matte Mod Podge
sponge brush
scissors
glue stick
ruler and/or measuring tape
3/4" ribbon
hammer and nail (about the size of a paneling nail - not too large in diameter)
thin wire (stripped from twist ties, or floral wire)
tape (painter's, duct, or masking)
I started with a 12x24" canvas I bought second-hand on Facebook.
It was 1 of 2 canvases in a group of 5 items I purchased for $30, so we'll call it $6.
I spray painted over the existing design with white paint and allowed it to dry.
As you can see in the top pic, I chose a floral, a geometric,
and a solid scrapbook paper with a slight texture.
Using a sponge brush, I brushed matte Mod Podge all over the canvas,
fitted the floral paper over the top, and allowed it to dry.
Next, I cut the geometric print in half, and fitted the two pieces into one long strip.
This gave me a piece that was 6" x 24."
I trimmed this piece to 18" long to allow 3" of the floral print to show top and bottom.
To create the border, I used the ruler's width as a guide to measure my strips
of the red-orange paper, and used the glue stick to stick it
just under the edge of the geometric paper rectangle.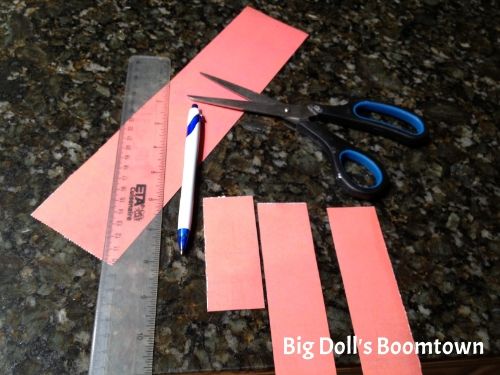 Once it was dry, I brushed on two more coats of Mod Podge on top.


I glued this fun lime green ribbon (5/8" wide) with a subtle pattern all the way around the edge.
Another great Dollar Tree find!

A little bit of the canvas edge still shows, but not enough to bother me,
and it's not noticeable once it's hung on the wall.
Now that the canvas itself is done, it's time to attach the rolling pin.
I wanted a method that would not harm the pin
and that also would result in the pin being removable if I ever chose.
Any type of adhesive clearly was not an option.
I eyeballed the center of the canvas and laid the rolling pin on top.
Using a pencil, I marked either side of the handles, top and bottom
and drove a nail in each mark.
Next, I clipped off 4 pieces of twist tie, about 10", and stripped the plastic off
so that I was left with only the wire.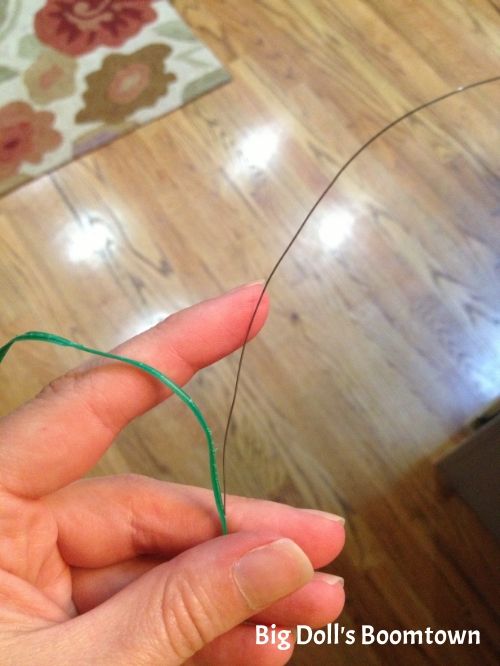 I looped the wire around the handle in the front, through the holes,
and twisted it together snugly in the back.
Just in case, I also taped down the wire ends.
TA-DA! All done!
Seems like a lot of work, but it really wasn't that bad ;-)I spaced my project out and Mod Podged one day,
and hot glued the ribbon and attached the rolling pin on the next day.
I hope you enjoyed this Vintage Rolling Pin Art tutorial
and that it inspires you to think of
new ways to display old kitchen utensils
and any other 3-D objects you find beautiful!