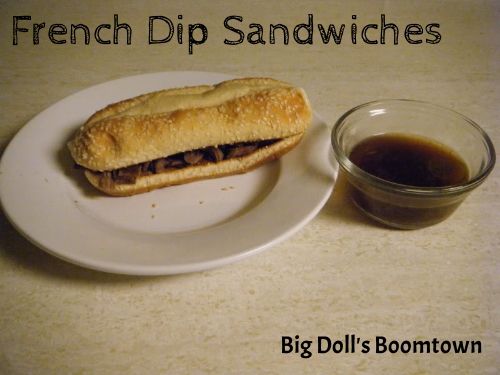 This recipe is sooooooo easy and makes a ton of yummy seasoned meat,
just in time for fall and football season!
You will love making French Dip Sandwiches at home and never order it in a sandwich shop again --
it's that good, I promise!

You will need:
1 2.5-3.5 lb. chuck roast
1 packet of onion soup mix (alternately, you could sub beef bouillion and extra dried minced onion)
1/2 tsp. garlic powder
1 1/2 tbsp. dried minced onion
1/2 tsp. black pepper (no extra salt, btw, because the soup mix has plenty)
1 or 2 bay leaves (mine were chopped, 'cause that's what I had on hand)
1 bottle of beer, whatever you have around (I have made it w/o beer and it's good this way, too -- the beer just gives a richer taste), OR
A couple cups of water, depending on the size of your roast and slow cooker (do not use beer AND water, choose one or the other)
Nonstick spray

Spray your slow cooker with the nonstick spray.
Put the onion soup mix, garlic powder, dried onion, pepper, and bay leaves in there,
and pour the beer or water over it. Stir to mix.

Put the roast in the mixture, and cook on 8-10 hrs. on low, flipping the roast over
Using a wire mesh strainer, strain the au jus (which is now what you call your juicy mixture)
to remove the onion and bay leaves. I stick it in the fridge so that any fat will solidify on the surface.
Once your roast has cooled enough to handle, slice it and shred it.
Pour a little au jus over the top to keep the meat moist, and especially for reheating.
We like to toast provolone on sub buns,
pile it high with shredded beef,
and have warm au jus on the side to dip it in.
O ... M ... G.
Your taste buds will think they've died and gone to heaven,
and you can pat yourself on the back for cooking something so yummy with so little effort!
Another delicious option is to use this meat to stuff baked potatoes!
Leftover au jus is great for making beef gravy and pot pies, too :-)
Ya just can't go wrong - get thee to a grocery and make it this week!