During the entire month of June, we only used our clothes dryer maybe 5 times.
It was so hot here in southwest Arkansas that I decided
to hang the majority of our laundry to dry.
It makes a lot of sense for us:
we have a deck with no shade that gets so hot you cannot walk on it with bare feet,
and we don't own patio furniture yet.
Our deck was basically "dead space" that we weren't able to use.
That made me a little sad :-(
I figured, "If it gets that hot out there, why can't I use that to my benefit?"
I'd read a lot about "living green" and using the dryer less to save money and energy,
and these sounded like good things to me!
So my research on clothes drying racks began.
My 3 criteria were that it had to be portable, collapsible, and durable.
It holds quite a bit of laundry -- just yesterday,
I dried a set of queen sheets, several towels, plus socks on it!
The lines are made of vinyl, and they are quite durable.
They can be tightened and re-knotted if they become too loose.
I would say it's my main "work horse" when it comes to drying clothes,
but it's certainly not the only one.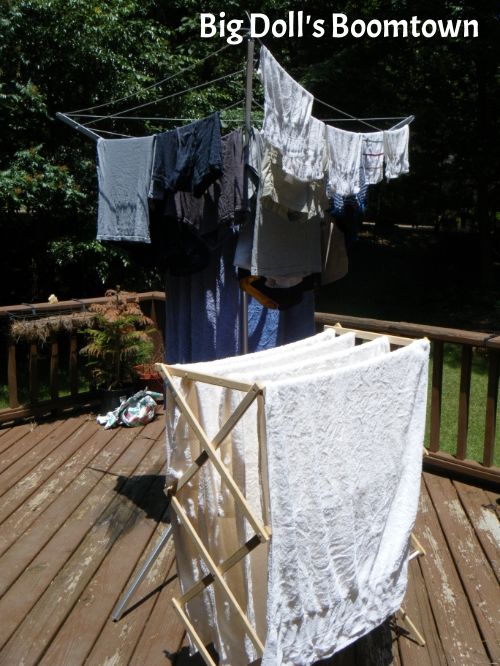 I have another drying rack that I've owned about 6 years.
It was actually a wedding gift and was purchased at Wal-Mart.
It has gotten a bit wobbly over the years,
but it still has a lot of work left in it.
Since it's lower to the ground, I don't use it for long items like sheets.
It does a good job drying bath and dish towels, socks, t-shirts, and undergarments.
This accordion-style dryer folds flat and is a good choice for people with small spaces.
Different versions of it are also available on Amazon, and Wal-Mart probably still sells it, too.
What if you don't have either of these racks, but still want to hang laundry to dry?
You still have options!
If my DH and I do several loads of laundry in a row and my racks are both full,
I also hang clothing in the doorways using coathangers
and I love to hang clothes in my upstairs bathroom, too.
It has a tub/shower combo, and the previous owners updated the shower curtain rod
to one of the nicer types that gives one more elbow room.
However, when we moved in, I found the old tension shower rods in the basement storage room!
This is a trick from my granny:
put an extra shower curtain rod in the center of the shower area and use it for a clothes drying rod.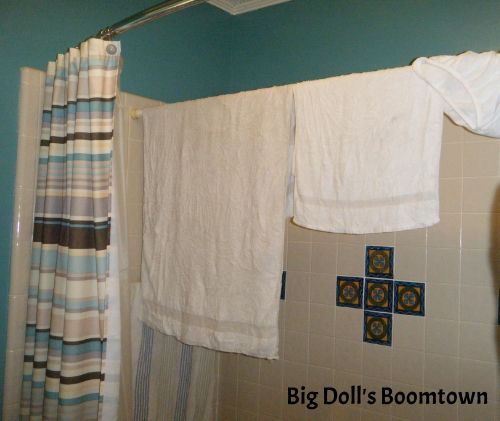 It doesn't impede the shower head or bother anyone showering at all.
(Unless someone is really tall, in which case it can easily be taken down and replaced later.)
So handy, and didn't cost me a thing!
Just be sure to balance the clothing evenly along the rod so it doesn't fall down.
and on the robe hooks outside the shower.
Tips for Hanging Laundry to Dry:
Save your time - if you know an item will eventually go on a hanger, hang it to dry that way!
Turn colored clothing inside out to dry, since the sun fades things (or hang dry these things inside).
You may have to rearrange or refold larger items on the line so they dry evenly.
Racks can also be used indoors, too! Great for rainy or humid days.
Be sure to shake laundry out before you hang it to minimize wrinkles.
Your family may prefer some items to still be dried in the electric dryer due to texture (my DH prefers washcloths and his undershirts go in the dryer).
Do you ever hang laundry to dry?
Please share any tips or questions you have in the comments!

This post linked to:
Share Your Creativity @ It's Overflowing!
Serenity Saturday @ Serenity You
Saturday SHOW-Licious Craft Showcase @ Sewlicious Home Decor
Met Monday @ Between Naps on the Porch
Amaze Me Mondays @ Dwellings - The Heart of Your Home