***If you aren't a follower already,
check out my pink "Follow Me" tag top and center!
Click on any of the icons to find
and follow my profiles on social media!***

It was fun telling you about how I hang laundry to dry,
but it's time to return to my kitchen and show you some updates!

When I began my quest to decorate my kitchen on a budget,
I felt excited and ready to tackle the blank canvas in front of me.
Free is the least expensive option there is,
and I set a priority to spend my money sparingly
on "stuff" since I already owned quite a bit.
I suppose the overall theme for my kitchen's decor is
"light traditional with a touch of whimsy,"
and I mostly just wanted things in there
that would be functional and make me smile.
Here are some examples of ways I have achieved this goal.
I have had these items a while, but I am one of those people
who can remember what something cost forever,
so I included that info (and where I bought things) in the pics.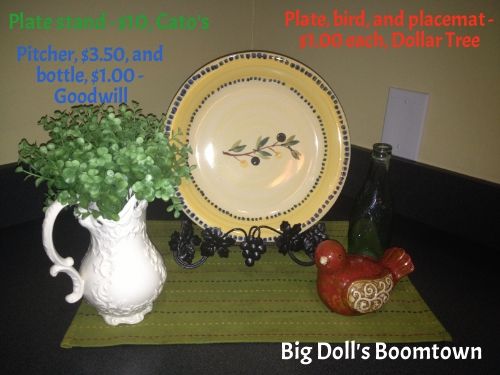 I got the idea to set up a vignette in this deep corner from Sheila at
Note Songs.
She is always creating really cute and inviting displays
with things she already has in her own kitchen corners, and I love the effect.
Sheila often uses trays or cake stands to add height to her vignettes, too.
I have owned these items for years, and they are so cute together.
I especially like how the round plate and curves of the pitcher
break up all the squares and angles in my kitchen.
The bottle is pretty nifty -- I did some research on it,
and it originally held mineral water from Virginia Etna Springs Co. in Vinton, VA.
It's hand blown, the color is called apple green, and the shape is called ten pin.
It's roughly a hundred years old, if what I found online is accurate.
Regardless, I love to imagine how it ended up here in Arkansas!
I eventually want to paint these walls aqua
and cover this little bit of backsplash with PVC pressed tin.
Well, I haven't yet pulled the trigger on painting (I'm not usually this chicken!),
and I originally thought just one sheet of PVC pressed tin would be necessary.
However, after I measured, I found it would require 2.
My Home Depot sells the 18" x 24" sheets for $20 each --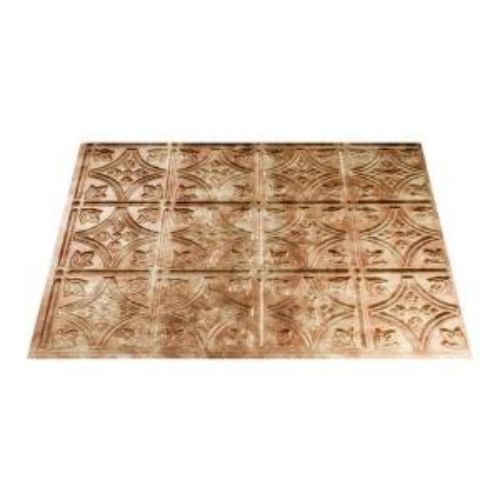 I am not ruling this out, because I do think the texture and metallic look would be amazing,
but $40 is more than I want to spend on any one thing right now.
In the meantime, I have this large "T" initial propped on the small ledge, and I like it quite a bit.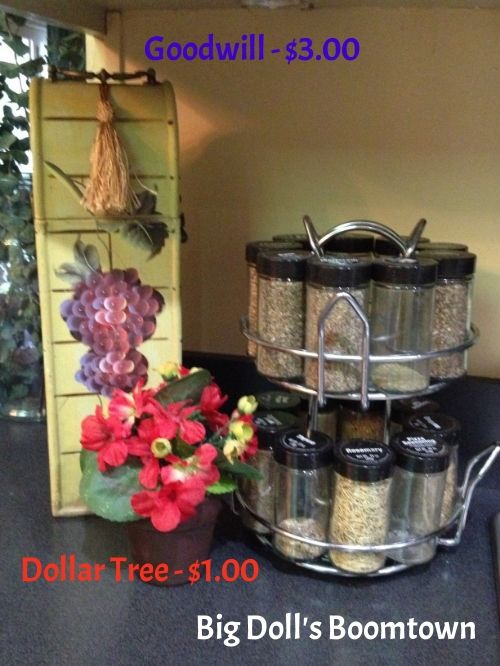 This wine box is a holdover from when my kitchen had a grape theme.
I like the height it gives this little area, and I may repaint it eventually.
It's really close to the wall color, and a spark of color here would be nice.
I just don't know what or how I'd redesign it!
If I paint the wall behind it aqua, that might not even be an issue.
The little pot of flowers gives a nice spark of red.
I've seen some disdain towards faux flowers online, but I still love them.
And it's my kitchen ;-)
My original plan was to have the pitcher of hydrangeas here.
After I spray painted my canisters, I found I wanted them on the windowsill instead.
My hydrangeas are still homeless for the moment.
I got the idea to hang things on the inside of the window from a blogger
I loved looking at Angie's ideas because her kitchen was arranged nearly identically to mine!
Anyhow, these little floral plaques bring in two of my favorite colors, red and purple,
both of which are present in the kitchen rugs that served as my inspiration.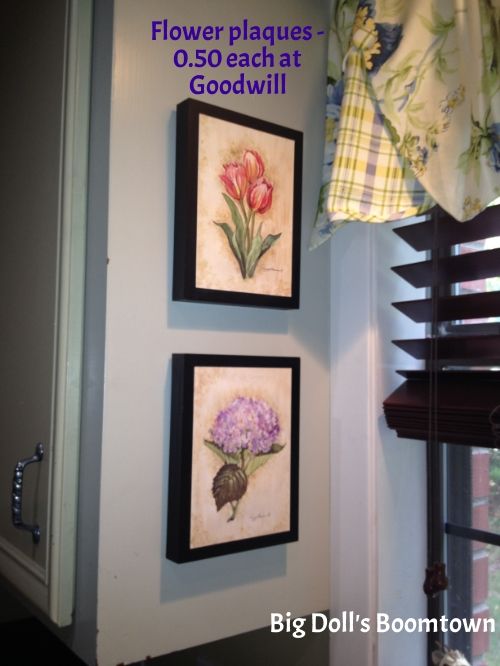 On the other side, I have a daisy-shaped hook that serves the function
of keeping my dishcloth handy and letting it dry.
Wet dishcloths left to sit on a counter top gross me out!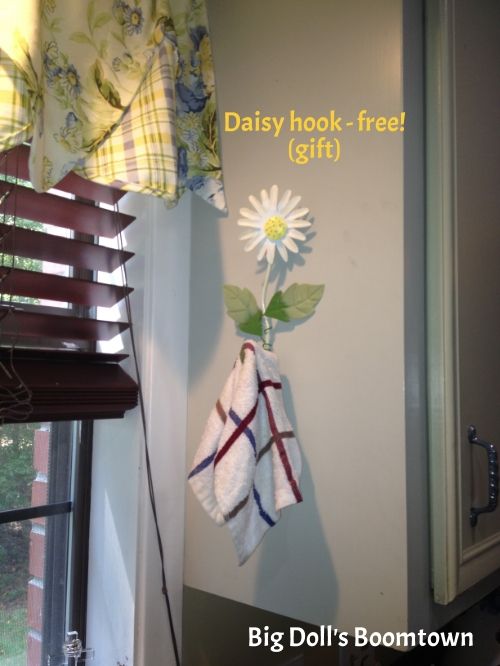 The Waverly valance hanging on a tension rod right now
is just sort of a "place holder" -- I still have plans
to get my mother to help me make a valance with burlap
and lots of colored fabric to better tie in my kitchen rug.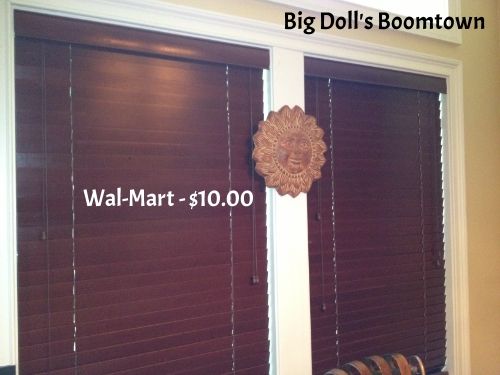 Here comes the sun! Love the Beatles :-)
This friendly terra cotta gent originally came
from the outdoors section, but he's so warm (ha!)
and inviting that I prefer to have him inside.
A 3-M Command Hook is securely attached to the window trim,
so that he can hang without holes going in my woodwork.
Hopefully these ideas will get you thinking about
stuff you already own and new ways to use it.
Rearranging and trying things in different rooms only costs time!
And who knows -- you might just surprise yourself when you shop your closets ;-)
I don't know which part I like better: making my kitchen cute for free,
or the storage space I reclaim when things are used instead of stashed away.
That, my dears, is a win-win.
Next time, I'll be sharing a cute and colorful DIY craft
that has brought a lot of color and texture to my kitchen,
and for less than $10!

This post linked to parties at:
Amaze Me Mondays @ Dwellings - The Heart of Your Home
Met Monday @ Between Naps on the Porch
Mod Mix Monday @ Mod Vintage Life
Masterpiece Monday @ Boogie Board Cottage
Creative Bloggers' Party @ Homemaker on a Dime
What'd You Do This Weekend @ Recipes and Ramblings
The Scoop @ Cedar Hill Ranch
Inspire Me Tuesday @ A Stroll Thru Life
Terrific Tuesdays @ Adventures of a DIY Mom
TOO cute Tuesdays @ Funky Polka Dot Giraffe
Tuesday's Treasures @ My Uncommon Slice of Suburbia
Anti-Procrastination Tuesday @ New Nostalgia
Get Your Craft On Tuesdays @ Today's Creative Blog
Penny Pinching Party @ The Thrifty Home
What I Whipped Up Wednesdays @ Sugar and Dots
Works For Me Wednesdays @ We Are That Family
Fluster's Creative Muster Link Party @ Fluster Buster
Whatever Goes Wednesdays @ Someday Crafts
Cast Party Wednesday @ Lady Behind The Curtain
Lil Luna Link Party @ Lil Luna's
We Did It Wednesday @ Sew Much Ado
What's It Wednesdays @ Ivy and Elephants
Wonderful Wednesday Blog Hop @ Ducks 'n a Row
Show and Share @ Southern Lovely
Hookin Up with HoH @ House of Hepworths
Catch a Glimpse Party @ A Glimpse Inside
Thrifty to Nifty @ A Jennuine Life
All Things Thursday Link-Up @ All Things With Purpose
Thursday's Treasures @ Chocolate Chocolate and More!
Open House Party @ No Minimalist Here
Thursday's Treasures @ Recipes For My Boys
Time Travel Thursday @ The Brambleberry Cottage
Show and Tell Friday @ My Romantic Home
Featured Nest Friday @ French Country Cottage
Craftionary link party @ Craftionary
Create and Share Friday @ Trendy Treehouse
Anything Blue Friday @ The Dedicated House
Nifty Thrifty Sundays @ Nifty Thrifty Things
Think Pink Sundays @ Flamingo Toes
The Weekly Creative Link Party @ The Girl Creative
Sew Darn Crafty @ Sew Many Ways