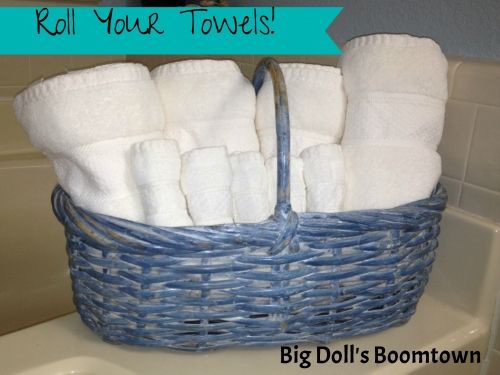 Rolling your towels up and
displaying them in a basket or on the shelf
is an easy, no-cost method
of attaining the spa look that is so popular.
It also results in a special, welcoming feeling
and can give a splash of color.
I like it because it frees up cabinet space, too!
This is how the rolled towels look in my master bath: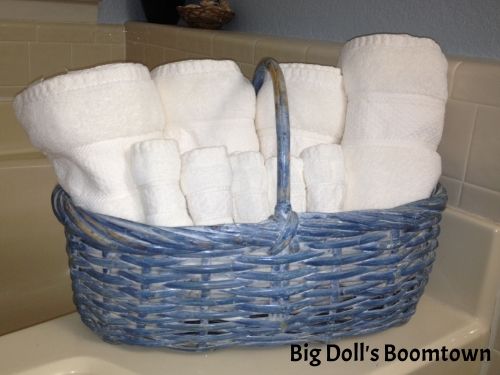 I got the blue basket at Goodwill when we were on vacation
a couple of years ago for just this purpose!
Look around your house and see if you have anything that might work :-)
Deeper baskets work well to stand up bath towels,
and shallow tray-style baskets are good for hand towels.
Buckets, decorative boxes,
anything
-- be creative in choosing a container!
Here is how I store my hand towels in the master bath: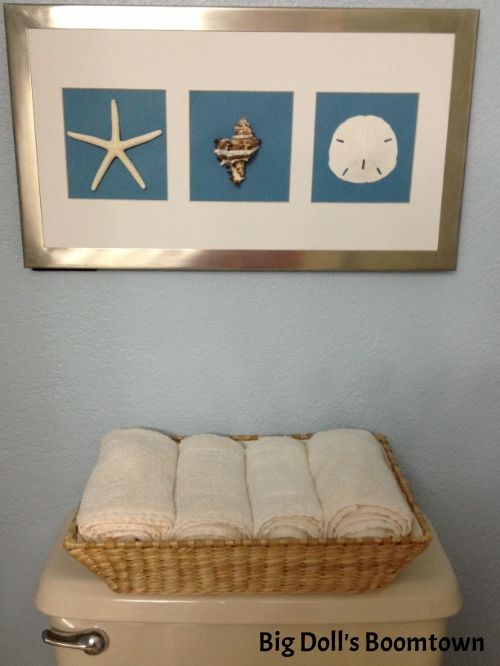 I keep them on the back of the toilet to free up space on my bathroom counter,
and I think they look nice there, too.
That's a repurposed basket that I received a gift in.
First, spread your bath towel out.
Your towel may or may not have a decorative band at the top like mine.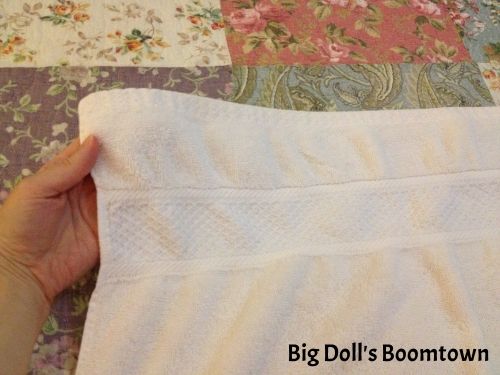 If it does, keep it at the top as we fold and roll.
Makes it prettier!

Fold your towel in half twice, making sure that seams are to the inside.
Keep the tag tucked inside, too.
Next, flip your towel over with the folded side up towards you,
and starting from the short end, roll it up ...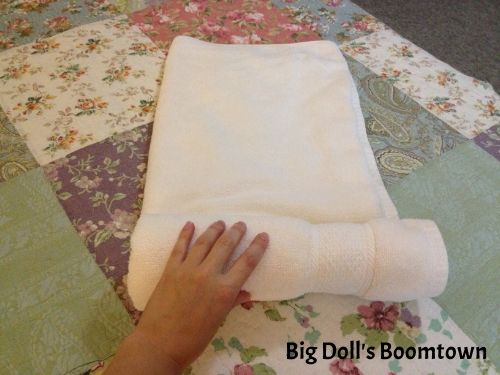 ...until you finally get a roll like this.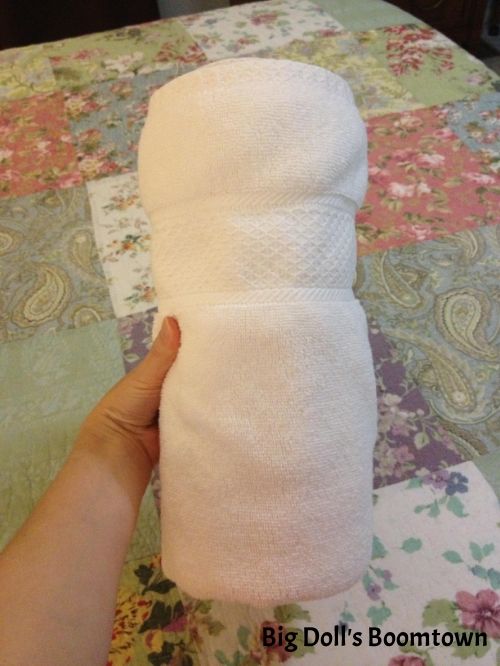 When you place it in the basket, turn the loose end towards the back.
That's it!
You'll need to be sure your edges stay more or less lined up,
but this is easy to fix as you roll.
Washcloths will roll up the exact same way,
except they will only need to be folded in half once.
I also only fold my hand towels in half once before rolling,
It will depend on how long your towels are
and your own preference, of course.
I roll the washcloths and hand towels in my upstairs bathroom too!
I like to think that it makes things just a bit nicer,
plus it shows my guests that I anticipate their needs and
want things to be nice for them.
Do you have any easy, low to no-cost tips
for decorating with what you already have?